In today's ever changing work environment, understanding the intricate connection between mental health and workplace dynamics is essential. Psychosocial hazards are real challenges faced by many in the workforce. These hazards, ranging from workplace bullying to chronic stress, can have profound effects on both individuals and organisations, and these are some of the issues the new psychosocial legislation aims to address.
No matter what your organisation does, if you operate in Victoria, you are required to comply with the Mental Health and Wellbeing Act 2022.
Navigating the new terrain: Victoria's Mental Health and Wellbeing Act 2022 in the Workplace
In the rapidly evolving landscape of mental health, Victoria is at the forefront with the introduction of the Mental Health and Wellbeing Act 2022. This piece of legislation arose from the Royal Commission into Victoria's Mental Health System, which recommended the Victorian Government replace the Mental Health Act 2014 with a new act. This new legislation builds upon the previous Mental Health Act 2014, bringing forth changes that not only reshape mental health services but also have profound implications for occupational health and safety (psychological health) regulations in workplaces. It is designed to elevate the mental health and wellbeing of all Victorians by emphasising:
Early intervention and prevention: Recognising the importance of catching mental illness early.
Community care: A focus on providing care within the community as much as possible.
Decision-making control: Enabling people to have more say over their care.
Safeguards: Strengthening protection for those under compulsory treatment.
Coordination and quality assurance: Introduction of new roles and entities to elevate the quality and coordination of services.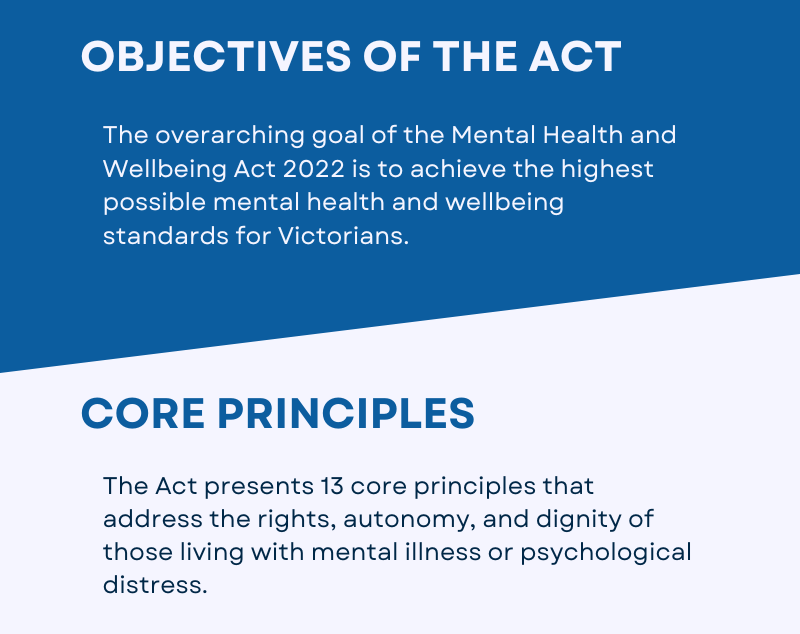 Objectives of The Act
The overarching goal of the Mental Health and Wellbeing Act 2022 is to achieve the highest possible mental health and wellbeing standards for Victorians. The key objectives of this new legislation include:
Promoting good mental health: Encouraging conditions that foster mental wellness and recovery
Reducing inequities: Making services more accessible and equitable
Quality services: Providing comprehensive, compassionate, safe, and high-quality services that:

Are accessible and responsive to varying needs
Include early treatment and a broad range of options
Support cultural safety for Aboriginal and Torres Strait Islander peoples
Aim to reduce compulsory treatment, seclusion, and restraint

Continuous improvement: A focus on the experiences of those living with mental illness for constant enhancement in quality and safety
Human rights and dignity: Protecting and promoting human rights through the least restrictive care
Voices of people with mental illness: Recognising and respecting the unique voices and experiences of individuals
Supporting families, carers, and the workforce: Actively aiding the wellbeing of families, supporters, and professionals in the mental health field
Promoting principles: Ensuring that mental health and wellbeing principles are upheld
Core principles
The Act presents 13 core principles that address the rights, autonomy, and dignity of those living with mental illness or psychological distress. These principles focus on promoting:
Rights and dignity: Protecting the rights, dignity, and autonomy of individuals
Diverse care: Providing diverse care and support services
Least restrictive services: Aiming for minimal restrictions while promoting recovery and community participation
Decision making: Supporting individuals to participate in decisions about their care and recovery
Support for families and carers: Supporting family and carers in making mental health decisions
Lived experience: Recognising and valuing the lived experience of individuals and their supporters
Health needs: Responding to medical and other health needs
Dignity of risk: Allowing reasonable risks for personal growth and quality of life
Wellbeing of young people: Supporting the wellbeing and autonomy of children and young people
Diverse needs and experiences: Considering and responding to the diverse needs and experiences of those receiving services
Gender safety: Considering specific gender-based safety needs
Cultural safety: Providing culturally safe services, including for Aboriginal and Torres Strait Islander peoples
Wellbeing of dependents: Protecting the needs, wellbeing, and safety of dependents
This legislation signifies a substantial step in enhancing the mental health system in Victoria, driven by a comprehensive understanding of the needs and rights of people living with mental illness or psychological distress. Stay tuned for the subsequent parts of this blog series as we delve deeper into your responsibilities under the Mental Health and Wellbeing Act 2022.
AUTHOR Michelle Robertson (Trudgen), Clinical Director, ACT Curious.
CONTACT US  📞    0438 922 979 (Australia Wide)  email: hello@actcurious.com
DISCLAIMER The content of this blog is not intended to be a substitute for professional medical advice, diagnosis, or treatment.
COPYRIGHT © ACT Curious Pty Ltd, 2023.